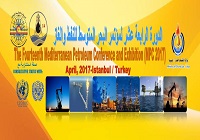 Challenges for Oil & Gas in the 21st Century
Call for Abstracts
Plan to Attend? Mark Your Calendars Today!
Dear Colleagues:
Today oil and natural gasrepresent the driving fuel for two third of the energy requirements for the entire world, therefore weneed together to research for new technologies which can extend the life of these natural depleted resources. In October 18 to 20, 2016 / Istanbul-Turkey, The InternationalEnergy Foundation (IEF), under Libyan Ministry of Oil&Gas and National Oil Corporation of Libya (NOC) patronage& endorsement, is organizing TheThirteenthMediterranean Petroleum Conference and Exhibition (MPC2016) in conjunction with different national and international companies, institutes and research centers. Among them, are ICF-WASI, Baker Hughes, Schlumberger, Halliburton, Weatherford, OMV, Blade Energy Partners, TOTAL E&P, UNDP, EGA, University of Tripoli, Wintershall, REPSOL-Libya, LPI and many others?MPC2016belongs to the well-established series of biennial conferences, specialized in oil and gas industry in the Mediterranean, that have been organizing by (IEF)andunderNational Oil Corporation of Libya(NOC)patronage, since 1991. The Organizing committee invites all experts and scientists those interested in all aspects of petroleum industry to participate to exchange ideas and views on the latest on oil and gas upstream and downstream industry.The conference will link the worlds of industry, government and academia for an outstanding exchange of applied research, technical applications, and novel solutions in the Oil & Gas Industry.MPC2016 is co-chaired with the International Congress on Fracture -The World Academy of Structural Integrity (ICF-WASI).
Topics:
Exploration and Drilling Technology
21stCentury Well Technology
Reservoir Optimization and Management
Oil and Gas Production Management
Improved Recovery of Oil Reservoirs
Produced Water Management
Polymers and Composites
Offshore oil and Gas Technology
Downstream Oil Industry
Corrosion in Oil and Gas Production and Processing
Corrosion Inhibitor Tech. and Cathodic Protection
Coating Technology & Selection
Pipeline Materials and Integrity Assurance
Materials and Technology Challenges
Materials Selection, Properties & Specifications
Materials/Modeling Fracture Mechanics
Materials & Joining / Welds
Fatigue and Hydrogen Embrittlement
Design and Construction in Petroleum Industry
Structural Reliability Analysis
Reinforced Concrete and Cementing Materials
Future of Oil and Gas Industry
Research in Progress
Human Resources Development
Petroleum Information Technology
Safety and Environment in Oil and Gas Industry
Honor and Plenary Lectures:Will be delivered by invited speakers who will give informative lectures on a wide range of topics related to the industry.
Technical Sessions& Courses:The International authors and researchers are invited to participate. All contributions presenting the results of original research, giving courses or innovative practical applications relevant to the conference are sought in all areas of research.
Special programs for participating students: MPC2016 will organize student paper competition. The top quality papers will be selected and Best Student Paper will receive certificate and cash award.
Industry: A key user of the technology and the conference provides an opportunity for companies to exhibit products and also features a Partnership Program to help support the conference. Exhibit spaces are limited and will be assigned on a first-come, first-served basis.
For more details on the scientific program, partnership program, exhibition and other related conference details, please visit our website at www.ief-ngo.org
Important Dates:
Submission Deadline for Abstract. June 26th , 2016
Submission Deadline for Full Papers. August 29th , 2016
October 18th-20th, 2016
Acceptance Notification July 17th , 2016
Workshop Registration September 4th  , 2016 
We would like to welcome you to join us on October 18-20, 2016 in the historic city of Istanbul-Turkey.
Should you require any further information, please contact Organizing Committee at:
Dr. M. A. Muntasser – MPC2016 Executive Chairman
International Energy Foundation (IEF),
24th December Street 192 P.O. Box 83617, Tripoli – Libya
Tel: +218-21-333-183-2/3/4 Fax: +218-21-3331831,
Email: This email address is being protected from spambots. You need JavaScript enabled to view it.